The Boiling Point of the Southern Cauldron

Original: Voice of Sevastopol, August 8, 2014
Translated from Russian by Gleb Bazov

Edited by S. Naylor
The Collapse of the Southern Cauldron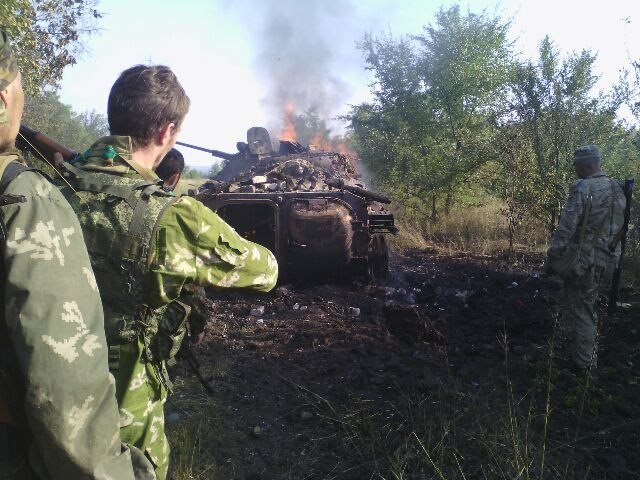 The Southern Cauldron has reached its boiling point; it is living out its final hours. Everything that did not manage to flee to Russia or to break out of encirclement is in the process of being cooked. Yesterday, following a de-blockading strike from without, the remnants of the surrounded brigades, having gathered an armoured group and abandoned everything that could not move, rushed to break through in the direction of Miusinsk. This led to battles, in the course which the city continually passed from one faction to the other. In order to prevent the unification of two enemy groups – one attempting to break out and the other – a relief group advancing through Orlovka to the north of Enakievo – the Militia attempted to push the breakout troops to the north-east of Miusinsk.

At this time, the fighting is continuing. The Junta is trying to use the breakout from encirclement to cut off communications between the militiamen and Donetsk. The leadership of the DPR understands this, and that is why yesterday there were head-on battles, which have continued today. The result of these battles will have operational significance. The situation is difficult in this area, as there are no clear front lines and the factions continue to maneuver with their reserves in order to achieve their respective goals. The Junta's objective is to pull out the remnants of the encircled brigades, while retaining control over Miusinsk. The Militia intends to dislodge the Junta troops from Miusinsk, in the process creating a new cauldron for the breakout troops.

With respect to Panteleimonovka, it has been reported on the Internet forum where Strelkov used to share his briefings that it remains in the hands of the Militia - even though yesterday there were conflicting reports suggesting that it had been abandoned. It appears that there is ongoing fighting and that, just as with Miusinsk, control over this settlement continues to pass back and forth between the opposing sides.

And here is a Ukrainian side's description of the breakout from the Cauldron. In a manner of speaking, this is piping hot news from straight from the mouth of the boiling Southern Cauldron...

The worst fucking telephone call of my life.

Petunya, Lyosha, Seryoga, Oleg, and all the other Odessites are alive.

There is a huge number of "200s" [Note: Killed in Action / KIA] among the border guards from Belgorod-Dnestrovsk, Mogilyov-Podolsk, a pile of dead paratroopers from Nikolayev, from the 24th [Brigade]. This is the outcome of our troops' withdrawal from the border. Over the past two days many more people were killed than over the course of the entire 42 days of the deployment at the positions. Many of the dead were left there, in the sunflower fields, on the roads …

After refueling their vehicles at the Ukrainian Armed Forces field base, they intend to run all the way to Odessa.

The operation with respect to securing the border failed miserably, yielding a pile of corpses and minimal advantage. Everything was fine until Russia started shelling our troops from its territory.

Ninety percent of all the hardware of our military grouping was burned down at the border; hundreds of guys perished …

Everyone who survived took off from the border: paratroopers, artillerists, mechanized infantrymen, border guards. They did not take off voluntarily, and when they did they simply ran "home" without any sensible plan for a retreat. By and large, no one commanded the withdrawal; they fled in all directions … They drove out on vehicles that were a hundred times broken: BTRs with dead transmissions systems, Gazels, UAZ jeeps, Shishigas. Those who were riding in Ural trucks, functional BTRs and Kamaz trucks were lucky. Any time a vehicle broke down, right away there were corpses and "300s" [Note: Wounded in Action / WIA].

Our guys cried on the phone. They cried from shame, the cried about those who were left lying in the fields … because to pick them up, to stop, would have meant death. They resented the fact that they were being shot at, that their equipment was being burned down, but they could not respond across the border with everything they had.

Petya says: "I will never forget how we drove at full speed, while from across the border Grads and howitzers pummeled us. We are fleeing on a broken-down Shishiga and see a waving hand stick out from a field of sunflowers. The body has no legs; a Gazel is burning next to it. The column turned to chaos … whoever had a stronger engine got ahead and tried to pick up our guys while still in motion. If a BTR broke down, it was immediately abandoned; the crew would pick up their light arms and wait for the next vehicle, then jump on it … I have only ever seen this in movies. And it was no column at all; it was simply a line of vehicles moving cross the field. I do not know who these colonels are who sent us to retreat along the border, knowing ahead of time that Russia was shooting at us."

Seryoga on the telephone: "On the pontoon bridge, the separatists hit us with mortars, and that's where we finally hit back; we gave them a good beating. Caught a Cossack – he turned out to be an officer of the Armed Forces of the Russian Federation. He begged us to let him go till his eyes bled, saying that he had kids at home … he told us that many of the Cossacks are officers of the Russian army in disguise. We shot him. Kept his identification; later we will demonstrate it. I can't tell you for certain, but there were about 300 vehicles in the column … who fucking knows how many were left at the end – I'd say about a half. Right now we are figuring it out, confirming our lists.

That's how it is, guys. I want to kill.

According to the Junta's reports, about 1,000 men were able to break out from the cauldron. It bears mentioning that, at the time of the encirclement, the grouping numbered between 5,500 and 6,000 men. Taking into account the units that retreated into Russia and those that returned to Ukraine, in the course of the encirclement in the Southern Cauldron the Junta lost 2/3 of the surrounded troops. The losses of military hardware are also significant – a part was destroyed in fighting, a part was captured by or transferred to the Militia, and a part was destroyed during the retreat due to lack of fuel and breakdowns.

In the next 1-2 days the army of Novorossiya will conduct a sweep of the enemy groups that remain in the Cauldron. In the course of this sweep, the number of the trophies obtained by the Militia and the Junta's overall losses of military hardware will be finally clarified. The information with respect to the 18 Grad MLRS captured by the Militia has been confirmed. According to Russia Today, at this time, the total number of trophies is on the order of 70 units. Their operational condition is unknown. In addition, the Junta has reported that everything that could not move was destroyed during the retreat. The amount of destroyed military hardware is unknown.

[youtube https://www.youtube.com/watch?v=Iu81QWr-glU&w=640&h=360]

Video: A Column of Trophy Grads of the Militia in Makeevka

At this time, apart from conducting a sweep, the army of Novorossiya is freeing up troops that earlier were engaged in blockading the surrounded enemy grouping. The main part of the forces will be transferred in the direction of Shakhters-Snezhnoye, some of them will be sent to finish off the Lugansk airport. It will take 2-3 days to redeploy tanks, MLRS and howitzer batteries, following which strikes at the positions of the Junta troops can be expected. Overall, the front lines have narrowed for the Militia, while the density of artillery fire will inevitably rise, which carries critical significance, because it is this artillery fist that, at this stage, has been permitting the Militia to parry if not all, then the majority of the Junta's attacks.

[youtube https://www.youtube.com/watch?v=n5JW4dunZF4&w=480&h=360]

Video: The Location of the Shot-Down MiG-29

The approximate time for the recovery of the 79th and the 24th Brigades to battle-worthy conditions is on the order of 2-3 weeks. The same period for the 72nd is up to one and a half months. Large losses of manpower and equipment cannot be easily compensated. Overall, the Militia won the battle for the Southern Cauldron. The southern grouping of the enemy has been defeated and routed. Suffering substantial losses, the grouping was forced to attempt to break through to their own troops.

At the same time, the military transport and the combat air force of the Junta also sustained significant losses, constantly suffering from MANPADS and antiaircraft fire of the Militia. The gap on the border now has become unseemly large, enabling the DPR and the LPR to organize supply routes through the southern border crossing checkpoints, which were previously controlled by the Junta due to their location on the territory of the Southern Cauldron. The logistics of supply lines has significantly shortened for Militia units in Southern Donbass.

Ataman Kositsyn has already managed to issue an order rewarding the commander of the Prapor group that liberated the Dolzhanskiy border-crossing checkpoint:




"For the successful execution of the combat mission to liberate from Ukrainian occupants the Dolzhanskiy border-crossing checkpoint, the commander of the Prapor unit is hereby awarded the highest honour – the Order of the Golden Star "Hero of the Cossack People".

"Yesterday, August 7, 2014, at 22:30, the flag of the Cossack National Guard was hoisted above the Dolzhanskiy border-crossing checkpoint. On August 7, 2014, we began a sweep of the Dolzhankiy border-crossing checkpoint and the adjacent territories in order to purge them from American-Banderite military formations. The Prapor unit executed a combat mission assigned by General N.I. Kositsyn. During the battle, in the course of liberating the border-crossing checkpoint from the occupants, two armoured vehicles and a large amount of the enemy's manpower was eliminated. At this time, the final sweep and de-mining of the adjacent territories that were mined by the Ukrainian military are being performed."

The fact that the Militia was unable to finish off the remnants of the surrounded forces in the Cauldron points to persistent problems of the Novorossiya army in repelling the strikes of large mechanized formations. At this stage, the shortage of tanks, antitank weapons and artillery prevents the Militia forces from being able to counteract the enemy's ability to conduct razor strikes. This objective factor is, essentially, what prevented the complete defeat of the enemy.

Even as it is, however, this is a victory, particularly considering the enormous losses of the enemy and strategic consequences of the widening of the gap on the border. Overall, the next several days will be devoted to localizing the effects of the breakout of the remnants of the surrounded forces and to stabilizing the front lines in the Shakhters-Snezhnoye-Torez area. It appears that the Militia is fully able to accomplish this by the end of the week, considering the reinforcements that were freed up by the liquidation of the Southern Cauldron.

Saur-Mogila, Miusinks and Trophies

Original: Colonel Cassad LiveJournal, August 8, 2014
Translated from Russian by Gleb Bazov

Edited by S. Naylor


Photograph: Motorola, the Arm Has Healed and He is Back to the Battlefield

Today was a very strange day. Despite the contradictory situation near Saur-Mogila and the collapse of the Southern Cauldron, the information from our sources literally had to be ripped from the battlefield. There were no usual gloomy reports from Strelkov discussing the heavy fighting; no bravado communiqués about the large losses sustained by the Junta troops in the Cauldron. It appears that the reason for this is that the command of the DPR and the LPR is now focused on collapsing the Cauldron, retaining Saur-Mogila and continuing the battles in the Shakhtersk-Torez-Snezhnoye area, coupled with attempts to force the Junta from Miusinsk.

Essentially, here is what has been determined:

With respect to Saur-Mogila

With respect to Saur-Mogila – 4 sources in the DPR were queried. Two of them confidently stated that the Militia continues to retain the height. Another one stated that the Junta forces took control - not of Saur-Mogila, but of the Saurovka village and of some numbered height. According to another, more detailed version, the top of the height was controlled by 15 militiamen. Following massive artillery shelling, they retreated from the mountain, but Junta troops are also unable to take control of the height, because our side continues to shell the top using artillery. At this time, an intense battle is ongoing there.

The fact that neither of the factions is able to present photographic evidence of having control of the height could mean that it should now be classified as a disputed territory and that the Militia does not control it completely. Trophy Grads apparently are being redeployed to Saur-Mogila; however, they have a fairly limited supply of ammunition. In order to understand which side controls the height, all that remains is to wait for the conclusion of the engagement (all the sources confidently stated that the battle of Saur-Mogila continues).

The loss of Saur-Mogils would, to some extent, negate the victory in the Southern Cauldron, because coverage from Saur-Mogila would enable the Junta to concentrate its forces for a strike on Donetsk from the southeast. At the same time, the Junta would be able to deploy a powerful artillery formation there, by analogy with the Karachun Mount.

With respect to the Southern Cauldron

With respect to the Cauldron, while some of the Junta forces managed to break through to their troops, other units were forced to the north of Miusinks, where the Militia is attempting to create a mini-cauldron for those who did not manage to make it out. The fighting continues there, however, this is rather a secondary objective. The main goal of the counterattacks being undertaken is the restoration of the communications with Donetsk that were interrupted in the course of the breakout. Here the mood is more optimistic. The enemy is sustaining losses, and the Militia has not lost hope of securing trophies; however, by the looks of it, and given that battle for Miusinsk has already lasted 2 days, this will not be an easy task to accomplish.

The military hardware that was captured does, in fact, number in the dozens. Taking into account the equipment that is not immediately operational or is partially damaged, then the total number could be as high as a hundred units. However, out of this mass of disparate hardware and guns, perhaps only half can be entered into battle in short order. Some units require field or factory repairs, and some lack ammunition. The situation with regards to fuel is somewhat better.

Importantly, the problem of the lack of specialist cadre has not disappeared. There are not that many qualified tank and BMP operators and even fewer artillerists. Considering the sharp increase in the number of available howitzer and Grad MLRS, this creates a situation of serious lack of specialized cadre to fill the newly created positions.
Saur-Mogila Update

23:30 - July 8, 2014 - Briefing from the Militia

Because everyone is worried, I will share some brief news. Just now my friend spoke with the commanders of two separate units. The say, unequivocally, that Saur-Mogila is under out control. Battalion Vostok was surprised to learn of its untimely death (I hope they will live long as a result). Provocateurs should be shot on sight – I have been a staunch advocate of this for some time.

22:20 - July 8, 2014 - Briefing from a Militiaman from Battalion Vostok

We made it out! Despite everything, we made it out! Ukies tried to surround our guys on the mound. Irrecoverable losses are 8 "200s" [Note: Killed in Action / KIA] and 11 "300s" [Note: Wounded in Action / WIA]. This is being confirmed. But we did not leave without a surprise! Two BMPs and four BTRs certainly burned down. Our Saboteur-Reconnaisance Group ("SRG") reports that they downed a helicopter. We have no other information with respect to Ukie losses. Our guys are very angry right now! We lost combat comrades! We shared food together, share our water and supplies ... We will pay them back. No doubt! Height No. 277 is ours! Ukies and their equipment will never make it up there. There is a present waiting for them on top. We'll be back after we lick our wounds a bit ...

Saur-Mogila: Chronicle of a Failed Assault

Preamble: This is the first of two interviews with Ukrainian soldiers that recently exploded in the Ukrainian mass media. The second interview is substantially longer, and will be translated in due time. It is not our custom to publish interviews taken by the Ukrainian mass media. However, this one (and the one that eventually will follow it) are different. In law, there is a concept of admission against interest - it is a rule of evidence that allows a court to take a hearsay statement at face value if the content of the statement is so prejudicial to the person making it that he would not have made it unless he believed it to be true. Although most of what the interviewee speaks about he claims to have directly witnessed, the concept of admission against interest is still relevant in evaluating the veracity of his statements. Not everything in this account should be taken at face value, but the interviewee's unequivocal denial of the official Ukrainian statistics of dead and wounded in this conflict is as telling as his statement that this war is "simply about embezzling money."
When they say that we have 380 dead during the ATO, should we believe this? - (skeptical silence)

Original: LB.ua
Translated from Russian by Gleb Bazov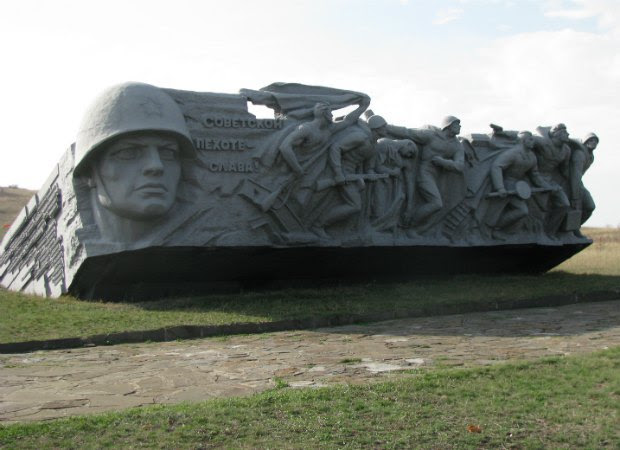 There is a new fad in the Ukrainian army – to accuse of desertion, evasion of compliance with orders, and suchlike. Much less is said about the orders themselves, which may be correct in theory, but are deeply unrealistic in execution.

On Wednesday, the commander of the battalion of the tactical group of the 51st OMBr (Separate Mechanized Brigade), Pavel Protsyuk, was removed from duty. The fighters defend their battalion commander: they say that, under the circumstances, this strategic height could have been taken, but it would have been impossible to retain it in the face of heavy artillery fire.

Internet news site LB.ua discussed this with one of Protsuk's subordinated, who told them that in Kiev the taking of Saur-Mogila was announced before the 51st OMBr even got there.

Question: Your commander is accused of failing to obey an order to take Saur-Mogila at all cost.

Answer: No one explained to us our direct task. We were only told that we have a mission that will last two days. And so we took food rations for two days, but it took us two days to just get there.

Our reconnaissance tells us: "On one side of Saur-Mogila, there are "unknown people", on the other side – a checkpoint with a red flag. So make your conclusions." But our commander says: "They said on the radio that these are our troops." As soon as we got to the foot of the height, we immediately were shot at by the "unknown people". "Our troops" should not be shooting us using a mortar, a machine gun and sniper rifles. Right away, we had several wounded, and the chief of communications, Major Khmelnitskiy, was killed. So, after that, we retreated.

We asked for artillery support. But no one gave us anything. This was on July 28th. In the meantime, they radio our commander: "If you do not take the height within an hour, you will be put to a tribunal."

Less than so. We regrouped and set up a defensive perimeter at the foot of the height. [The enemy's] gray UAZ jeep was driving by – probably their reconnaissance. They say us, turned our and drove off. Then a khaki-coloured UAZ jeep drove by. Inside there was a 17-year old guy from Kharkov, the driver, and a man 45 years of age. We took two more of them prisoner later – they were going to get "oxygen" for welding, and they told us that it was their field commander, apparently, a colonel specializing in tactics, from Russia, and that he was wounded in his arm. They told us that they had female snipers there. I showed them my SVD sniper rifle, and one of them tells me: "Our troops have a different model – it's larger and the optical system is better." So everything is clear with you …

Question: How did you manage to take them prisoner?

Answer: When our troops started shooting at the vehicle, they ran out and hid in the field. Then they tied up a sock or something like that instead of a white flag and started to wave it around.

Question: Did their own try to shoot them in retaliation?

Answer: Snipers were preventing us from taking the colonel and his driver. They drove out unexpectedly somehow. Likely, they did not expect to see us alive. Our troops even shot a warning salvo, and they opened fire on us. That's when we got them … Their UAZ was full of ammunition. It started exploding after that. They had grenades there, but not RGD-5, like we have, but round once with a plastic cap.

… At five o'clock in the evening we asked for assistance to evacuate our "300s" [Note: Wounded in Action / WIA] – 18 men, a major and two separatists. And at eight o'clock the commander sent an assault group to storm Saur-Mogila – three BMP, three tanks and infantry. We report to General Staff: "Saur-Mogila is ours. Commander has ordered everyone to advance to the height and to set up perimeter defence."

As soon as we reported that the height is ours, machine gun fire with tracer and armour-piercing rounds came from the "checkpoint with a red flag" (even though we destroyed it in advance). They were "hurrying" us to go up Saur-Mogila. And, at the same time, when the column at full speed was climbing the height, they shelled us using self-propelled guns. But we made it up without losses. Set up perimeter defence. Three BMPs stood at the very peak, and a tank was nearby.

As soon as we did this, minor mortar shelling followed, and then their howitzers started working, using high-explosive fragmentation rounds. The fragments were as large as my arm. They bombarded us from half past nine and until four in the morning. People were hiding wherever they could. Some hid in craters. Others – under burned-down BMPs, which were left there either by the 30th or by the 95th Brigade. Many started panicking. They abandoned the hardware along with ammunition. They were telling the commander: "We need to retreat, else they will kill us all here." The commander gathered everyone and turned them back to the armoured vehicles. But! Because of frequent fire, the cannons of the BMPs jammed – only one of them was working – and all three tanks were damaged. The fuel was running out – we took fuel from the damaged vehicles and poured it into the working ones.

If their infantry came out in the morning, they would have killed us all.

So the commander decides to retreat. But we were on this Saur-Mogila, and we remained there for six hours!

We retreated, and the commander was once again ordered to take the height. To sacrifice the entire battalion, but to take the height at all cost …

In reality, however, we retreated even further, and all day our troops showered Saur-Mogila with fire – using Grads, howitzers.

Question: But why? If there was no one up there.

Answer: Yes, in a way. However, their troops kept crawling out of somewhere and continued to shell us. There is forest up there; that's where they hit us from …

And now they accuse our commander of being a liar, a coward, of failing to obey an order. Our entire battalion will stand up for the battalion commander. And they will not go anywhere without him!

Question: So, in the end, who took control of Saur-Mogila?

Answer: No one! But on July 27th, before we even got there, they reported that our brigade took Saur-Mogila. Even though no one has been able to take it for the past two months. And, at the same time, the enemy has demolished the 30th Brigade, the 95th (there is nothing left of the Brigade – 150 men are left, at most), the 72nd, our 51st. Yesterday, the 3rd Regiment was there. They were obliterated by shelling, so they turned around and went back.

Our brigade is now being bombarded from the side of Snezhnoye, they are even have been targeting their Grads at us. The guys are asking for rotation; this is the fifth month they are fighting.

And meanwhile, they are putting our commander before a tribunal. But the entire battalion will stand up for him! And no one will go anywhere without him. And there is no way you could make anyone else go there, even at gunpoint. The entire area is open to fire.

I am not a tactician, I am a simple soldier, but I understand why we need this Saur-Mogila – to ensure that heavy equipment cannot make it to Snezhnoye. The road passes right beside it. There is one thing I don't understand: where do the separatists get so much ammunition – they shelled us for three days straight. And not only us.

But to go up Saur-Mogila makes no sense because there is artillery shelling it. And when a Grad is working, then everyone lies down because there is nowhere to hide!

And the one who said during live broadcast that Saur-Mogila is ours, now wants to cover his own ass. Maybe it's not theirs, but it's certainly not ours.

Question: What about the monument itself, does it still stand?

Answer: Yes, it stands! Shells hit it, sparks fly, pebbles scatter, but it stands. It's massive. You can see everything from there. I had time to learn every little bush by heart.

Two of our snipers had to stay behind there; they spent twenty four hours without war in blistering heat. They hid in a narrow drainpipe. And one of them was bitten by a copperhead snake. I later drew them a map, showing how to get to their troops: where better to crawl, across which forested area to cross, across which field.

Question: Did you already kill many?

Answer: I couldn't tell you … I don't even know … I don't count them and don't want to remember. When people make notches on their rifles – they are only showing off.

Question: Do you see faces in your dreams at night?

Answer: These days you don't see faces – everyone is in masks. And I didn't kill that many … I didn't understand why they sent an entire company of snipers to Saur-Mogila. It's not our tasks to fight artillery. The enemy is too far for you to see.

Question: What's the range of your rifle?

Answer: To really hit someone – 800 metres. There is a special Russian rifle – "Vykhlop", which has a sighting range of 1.5 kilometres, but shoots ever further. And it uses large calibre rounds – 12.7 mm. Its round is like a sharpened pencil – it pierces both a 50 cm wall and a person in a class 6 bulletproof vest.

I think this is war is simply about embezzling money. Because I didn't get anything from the state, only from volunteers – night sights, for example. Maybe I just wasn't lucky.

Question: Do you know that captured snipers get killed on the spot?

Answer: I don't bring my military ID with on assignment. Instead I take a "fly" – RPG-18, two grenades, and up to a hundred rounds.

Question: For a hundred enemies?

Answer: If it comes to that. In reality, a sniper targets a specific person and takes him down right away. That's why, if you reveal yourself, you can count yourself done for. My rifle was made in '88; when you fire it, you can hear the sound, and at night you can see the flame. Whereas their rifles you can't see or hear. That's why, once you made the shot, you run from that place. At least 10 kilometres away. Unless you have a good position. In that case, you shoot and hide, shoot and hide. But I have not experienced something like that.

I want all of this to be over. This is not an antiterrorist operation, it's a war. At first we thought we'd be like guerillas. People would rip their t-shirts [to show their conviction], but once the incident at Volnovakha happened, they all started begging to go back to training grounds, in order to run away home.

There is a lot that's not going right. Because of lack of coordination our troops shoot their own. That's how we "met" the 30th Brigade. Obliterated, they were coming from Saur-Mogila, and we were going there. And their tank shot at one of ours. Later they saw flag, and we figured it out. Two columns met on the road; it was difficult to pass each other, and the separatists started to shell us.

Here is another incident: wounded were being transported at night. Two BTRs from another brigade rushed ahead with turned-off lights, and our "Ural" truck fell behind. The driver says: "They abandoned me, and I don't know the road. So I turned around and went back to the brigade." He had one severely wounded, and the rest couldn't even jump. They spent six hours with us on Saur-Mogila under artillery shelling. We were scared to death.

Question: When they say that we have 380 dead during the ATO, should we believe this?

(skeptical silence)

Question: Then how many times more?

Answer: I don't know, but it's certainly not 380.

Question: Because you only saw with your own eyes …

Answer: Myself, I did not see that many. Here is a life example. I was able to speak to a pilot who transported the dead. Together with the wounded, he transported 64 men. But the majority of them were "200s" [Note: Killed in Action / KIA]! There were no black bags, and the bodies were simply piled up on each other. He said that he barely washed the blood from the plane. And on TV they said that on that day there were only 10 "200s".

Question: And during the terrifying shelling on Saur-Mogila you only lost one person?

Answer: Now they blame us for it – they say that we never went there – too few dead, too few wounded. As for me, we should be happy.

This is how it was there: the commander saw that snipers were hitting the monument, so he figured that the howitzers would work the same way. And we regrouped our men and equipment. Their guns covered us in a chessboard pattern. They played chess, and we played along with them. And we must thank our commander for this! Every one of our fighters will subscribe to this.

… Yesterday our group went to Saur-Mogila with the 8th Regiment. My friend died there. A fragment got him in the head. He was a machine-gunner in a BMP. While we were still stationed at Ugledar, he went out with a local girl. And, apparently, she is pregnant from him. And now the parents of my friend want to bring her to live with them, so as to have at least some memory of their son.


National Guard Soldier: Data On 363 Victims Is A Lie – At Least 4,000 Ukrainian Troops Perished During The ATO


Original: Gordonua.com / Copyright Notice
Translated from Russian by @Catherina_News


This is an interview with a Ukrainian soldier who fought in the Donbas for almost two months. "If on television they say that 2 - 3 military troops died that day, know that it was in fact 12 - 13" - the National Guard soldier stated to the publication "GORDON". For security reasons he asked that we not publish his identity. 6 August, 2014 14:35By Natalia Dvali - Editor

He appeared to be in his 20s. He is a contract soldier in the National Guard of Ukraine, and fought for almost two months in the anti-terrorist operational zone (ATO) in Donbas. He participated in the battles for Krasny Liman, Nikolaevka, Seleznyovka, Zakotnoye, Yampol. In the winter of 2013, on the order Presidential authorities, he fought to protect the Administration from militants. Later, these same militants brought food, cigarettes, helmets and body armor to his ATO camp.

Now he is back in Kiev for rotation and agreed to tell recount his story to the publication, "Gordon" about everything, starting with soldiers' living conditions in the ATO area, outdated equipment, constant information leaks to Separatists, and ending with statistics of the army's losses.

- Why do not you want to advertise your name and unit in which you served?

- It would mean the end of my military career. I don't hold to the idea of serving nor am I afraid of losing my rank, I have good friends, in any case, I'll be ok. I just don't want to jeopardize the guys with whom I fought.

- Then why agree to the interview?

- I wanted to show specific examples of what's causing dissatisfaction among ATO troops, namely incompetent commanders, the complete absence of interaction between units, information leaks, which seems to occur even at the Kiev level. Very often we didn't know where and what mission we were going on, but the Separatists were aware of it and prepared an ambush. But to explain, I first have to tell the whole story.

- Let start from the beginning. When you were sent to the ATO zone?

- At the end of May. The order to send a few dozen people from our military unit arrived a week before we shipped out. A few days afterwards we trained at the training center in Petrivtsi village; weekends were allowed to spend with our families.

We got our orders but weren't given a normal uniform or equipment for fighting, we didn't even get even "ankle boots" with that have a special plate.

- What is the "special plate"?

- There's steel plate inserted in the sole of modern army boots. There are some small mines that look like petals, they can't kill you, but if you step on them in non-combat boot - your foot gets blown off.

We had no "ankle boots", no body armor, no army uniform made of a special fabric that doesn't burn. When you're fighting, it's easy to burn yourself; your rifle gets red hot after firing it, there's hot brass flying out. You see, I have burns on my left hand? That's from the brass. We didn't have protective eyewear, which protect the eyes from dust, dirt, powder gases and flies. There weren't even tactical gloves to protect your palms, in war it's necessary to take a rifle that's constantly hot, crawl on the ground or something else. Nothing. We had nothing.

- They tossed you in the ATO zone unequipped?

- Fortunately our unit's leaders found sponsors who have provided an enormous sum- about 1.5 million hryvnia (approx. $121,371 USD). We bought everything we needed but there weren't enough "ankle boots" and uniforms.

By the way, we didn't just buy for our own unit, but also for a few guys who were sent to the ATO zone a month before us. They called us, told us what was going on in Donbas.

- What specifically did they tell you?

- We in Kiev were certain that it was mainly mercenaries and local fringe firing intermittently in the east, but the majority were residents of Donbas in Ukraine. It turned out, according to the armored group, that the residents gave the Ukrainian Army a hostile reception.

For example, our military convoy went from point A to point B through the village, past the market along the way. The locals calmly went about their business, shopping, selling. As soon as our convoy drove a few meters away from the market it was ambushed by powerful gunfire, and the people didn't even turn around, they continued shopping, they didn't care.

- After such stories was there any desire left to protect the Donbas?

- There were those who refused from the onset because they understood that they would not be able to handle it psychologically. They comprise less than 10%. I don't consider this a betrayal. One must be honest with himself so as to avoid letting a comrade down in battle. Honestly, I had the opportunity to get out of going, but ... I didn't want what happened in Donbas to spread to Kiev where my loved ones and relatives live. Maybe that's selfish, but it's true.

- Was there fear? After all, you had to know you were going into a real war.

- There was no fear when the order first came down. Anxiety started during training in Novi Petrivtsi.

- What happened in the National Guard training center?

- We hired an instructor to prepare for the anti-terrorist operation. An absolutely incredible person: professional, good teacher, loves his job. He taught us how to hold down a checkpoint, storm a building, explained how to properly protect an armored vehicle or shelter from a mortar attack. It turned out that we didn't know anything. Not a damn thing!

- Didn't know? Before our meeting you told me you worked for the Ministry of the Interior for several years.

- Usually we'd go to the firing range once or twice a year to "learn" how to aim to shoot. It looked like this: There would be a mock-up of a terrorist and a hostage, and you aim from a distance of 25 meters. A very silly exercise, not even close, not in the least, to real combat conditions. In the army, the emphasis was on physical fitness and on tactical skills - assaults, sweeps, retreat - and no discussion about it. For firing practice, we performed the tasks in accordance with long outdated military norms.

Our instructor in Novi Petrivtsi told us almost in tears: "You have a very low level of training; I don't know what to do. To get to a level where a technique is second nature, you need to practice it for two months, and you only have a few days." The most annoying thing was that more than half of the allotted time had to be spent on showing off.

- What "showing off"?

- Avakov and Turchinov came to the training camp (Note: Interior Minister Arsen Avakov and Speaker of the Verkhovna Rada Oleksandr Turchynov, Acting President of Ukraine from February 23 to June 7, 2014.) They selected some people from the unit, including me. My colleagues and I really prepared, and we practiced demonstration performances for the brass.

Everything that you see in Novi Petrivtsi - a showcase for beautiful movie set. The training center doesn't have a single normal training mockup where you can work out the actual fighting techniques. We're leaving for the ATO in a couple of days and we're pulled away to put on a show for the top-brass? Absurd, beyond absurd!

After a few days of training, we were sent home on the weekend, to be with our families. But after one day, they called us in, it was necessary to defend Kiev from possible provocations, riots and acts of terrorism. The next day we had accelerated medical training and were sent to the Donbas.

Most of us deceived our mothers and wives, of course - didn't say where we were going, just said we were going to work and would be back soon. I, too, didn't tell my family.

- Where exactly did they send you?

To the ATO camp in Kharkov region. A huge field, a small piece of asphalt, staff tents, where the generals lived (or rather, hung out, since they slept mostly in hotels), camouflage nets. Overall, beautiful. But covering the generals' modern tents were old Soviet ones, stretched one on top of the other, and stretched over that one, still another, a third tent.

- Why?

- So they wouldn't leak, almost all the tents were full of holes. No electricity, no poles, tents on the ground. On the day of our arrival there was a heavy rainstorm, the tent was completely flooded, mattresses soaked and that's how we slept. In Eastern Ukraine, after it rains the land turns into a mixture of clay, shit, mud, dust and superglue. We sank, sank up to our shins in a camp transformed into a muddy swamp.

You can't smoke at night, otherwise you're signing an immediate death warrant. The camps are always being shelled and at night a sniper can take you out by the twinkle of your cigarette. You can use your cell phones but you shouldn't in the ATO zone because the separatists tap the airwaves. I, for example, called only one close friend a day: said "all's well, I'm alive".

- Leaky tents, wet mattresses ... Morale fell?

- We got used to it, and later became resentful during the operation.

- What was the first combat mission received?

- Remember the helicopter that was shot down near Karachun? (Note: May 29, Separatists shot down a MI-8 helicopter in Mount Karachun near Slavyansk. 12 people were killed - six soldiers the National Guard, including two crew members, and six Special Forces from the Ministry of the Interior.). From the ATO camp to the Karachun checkpoint it was 60-70 kilometers, it was necessary to take food and ammunition to the guys.

We all loaded up in the APCs, no space left, I had to ride on top. We drove 20 miles, the armored car broke down, and not because it was mistreated. Even more banal - it was a very old APC. So it's just not handling, the machine's weight - up to 12 tons. Had to call a second APC, unload and reload the supplies.

- And you continued on your way?

- Yes. We drove into town. 20 percent of the locals happily waved to us, while the remaining 80 percent were outraged, saying, "Why did you come here?" We tried to quickly pass through the village, but suddenly the engine began to boil and stopped. Right in the middle of the village, and it still wasn't clear to us, if separatists were hiding in the homes of locals or not, if they would attack us now or disperse. But we had to wait until the engine cooled down, otherwise a second BTR would be out of commission.

We reached the Karachun checkpoint 10 minutes after the separatists downed the helicopter. And our own almost blew us away…

- Why is that?

- Our own guys were just were just about to start shooting us from the checkpoint. We didn't know at the time that a Ukrainian flag was supposed to be attached to all vehicles.

- Strange disguise, as if Separatists can't fasten a flag to their vehicles and get freely past ATO roadblocks ...

- That's a different story. At the checkpoints, the guys sit in the trenches because they're constantly getting shelled from the towns. The separatists hide in the villages, in the courtyards of houses, churches. Set mortars and let them thrash our guys, and they can't retaliate. The guys on Karachun Hills told us that they saw how the helicopter was being shot down, but couldn't do anything - a rocket was fired from the town.

- After the first mission, did you make it back to camp without incident?

- On the way back, the APC's engine boiled again, we stopped again, let the engine cool off, then set off, drove a few miles and... a wheel exploded.

- Hit a mine?

- No, the wheel snapped from wear and tear, and again in such the wrong place. We're standing in the valley, hills all around us, we're totally exposed- shoot as many as you'd like (easy pickings). Fortunately, we managed, somehow, at very low speed, to make it back to the camp.

- You mentioned that the Donbas locals gave the Ukrainian army a frosty reception...

- As soon as the unrest in the East began, civilians voluntarily sheltered the "DNRers", greeted them as heroes of the liberation army. But when they started behaving outrageously, (the locals) realized what's what. Even now, though... the Separatists have a highly developed intelligence network among the residents of Donbas.

For example, we went to a relatively safe area in an armored car; suddenly a taxi is right on us. Drives along for 10-15 minutes. We veer into the bushes - and the taxi driver's still there, and constantly talking on the phone with someone.

- How do you get rid of the tail?

- We fired a few rounds in the air while on the move and the taxi driver fell behind. Stopping the APC in an unprotected area is dangerous as Separatists can shoot from the bushes, with a grenade launcher for example. Such a weapon has an explosive charge, which with enormous pressure can literally burn through the armor of an APC.

Unfortunately, and not an uncommon occurrence among Ukrainian troops, (there are times) when friends want to eat fish and not choke on a bone.

- You what?

- There were leaks inside of our army. There were those who released information when (they deemed) it was necessary. As a result, the Ukrainian convoy unexpectedly fell into an ambush. Thus comrade, our troops got screwed and with an extra reaming from the Separatists' too.

On the road to Karachun when our first BTR broke down, we weren't far from the Ukrainian checkpoint where volunteers were on duty. One of them came up to us, and while we were busy with the armored vehicle, began to photograph us with his cell phone along with our weapons and the ID number of our APC. We asked him once, twice not to do that. He replied, saying it was for his personal records. Had to quarrel with him to get him to erase all the pictures from his phone.

- When did you sense that the locals changed their attitude towards Ukrainian troops?

- When two tearful women fell at our feet in Zakotnov, "How we've been waiting for you." We went into shock. (Note: In April of 2014 "DNR" militia captured the village of Zakotnov, Donetsk region, and later blew up the bridge over the Seversky Donets river. Most people left the village, on July 1, ATO forces took the town under its control.)

According to intelligence reports, in Zakotnov there was no one - no civilians, no Separatists, but the whole place had to be swept especially since the day before the Separatists had shot three Ukrainian soldiers - ambushed them directly in the camp. We began a house-to-house search, cellar to cellar, looking for Separatists, booby-traps and so on.

At the first farmhouse I visited in Donbas, I understood why locals went with the "DNR" and "LNR"...

- And why?

- I'd never seen such poverty before. Believe me, I'm not spoiled, I grew up in an ordinary family, but the villages of eastern Ukraine - a life beyond the bounds: regional centers are dead, nothing works, a solid circle of poverty. In Western Ukraine people don't live a wealthy life, but they have well-kept houses, even rich houses compared to the East.

It sounds hard, but once people silently endure such misery, then there's a price. You need to turn around, to work, and not expect that "a boss" will say, "Dude, here's work, a car and an apartment." But in the Donbas many sincerely believe that "DNR" is the panacea for all ills.

- Let's get back to Zakotnov. You began to sweep ...

- Yes, we went to one of the houses. Inside was poor, but cozy - bookshelves, a sofa, and cigarette butts on the floor. It's clear a homeowner doesn't mess it up like that, so separatists are here. Judging by the number of cigarette butts, they'd been there a long time. Suddenly a man comes out to meet us, 50 years old. We're on edge because of debacles we suffered and he came straight at us. We shouted to him: "Stop!" - He was silent, but kept coming. Fired some automatic rifle shots into the air – he stopped, silent, but with his hands began to show something. It turned out the old man lost his speech after a stroke. It's a pity it was, we took him to a place in the shade and explained: do not worry, we're the Ukrainian army, you are safe.

- Well, who fell at your feet?

- We went to the house next door and again saw poverty. We went to the cellar, and written in chalk on the door it said: "We're seven people, two young children, two old men, hiding from the gunfire." The writing moved us to tears, but there have been cases when ATO fighters believe such a text and walked into a booby-trap. Or went down to the cellar, and surprise - a separatist machine gun greets you...

We opened the door to the cellar, it's dark, and suddenly a child starts crying, a woman comes with babies, an old lady. Once they realized we were the Ukrainian army, they fell at our feet, burst into tears. It made us uncomfortable; we asked them to grab their passports and exit through the gate.

- What for?

- We had learned from bitter experience. There's never a moment when you can relax around civilians, you can get shot in the back from a house or garden. We brought them out past the gate, brought them water and asked: "Why didn't you leave when the Separatists began to rampage?" "Well, where would we go?" they answered "We have a farm, cows and a house. Leave, and looters would steal everything. We've been waiting for you for almost a month."

- By the way, about the sweep. Here is an example about the volunteer battalion "Kyiv-1", which is part of the Ministry of Internal Affairs. We worked together for the capture of Nikolaevka in the Donetsk region (Note: fighting for the city lasted two days, July 4 Nikolaevka was liberated from the Separatists). We ousted the Separatists from two directions: on the one side the paratroopers, on the other - the National Guard. The paratroopers went through the industrial zone, where there were crazy fights. The National Guard and "Kiev-1" went through the housing sector. At six o'clock in the evening the assault began, we were met by active enemy fire. We settled on the first street, took up defensive positions and began the sweep.

I told you about Zakotnov in which we step by step, inch by inch swept the houses and cellars, to identify Separatists, but didn't run into booby traps. So, in Nikolaevka "Kyiv-1" didn't conduct an accurate sweep, but instead immediately threw grenades.

On the next day, there was a planned offensive. There was a meeting the evening before during which the commander of "Kyiv-1 Battalion," said: "my people are physically and psychologically ready". As a result, the volunteer battalion agreed that the National Guard would go first, take up defensive positions, make a safe passage, and only then would the volunteer battalion go in and start the sweep.

- Again with grenades?

- On the second day they didn't do so yet. Step by step the National Guard occupied the housing sector, provided a corridor, and only after that "Kyiv-1" came in behind us. The most difficult area – the industrial zone - was assigned to the paratroopers. There dwelt the main forces of Separatists. The paratroopers did an incredible job, a lot of them died. These guys all deserve a monument! The paratrooper corps is the fiercest and most reckless faction in the Ukrainian Armed Forces. They don't care about not having proper bulletproof vests and are always 100% ready to fight to the last man. There are, however, a lot of them dying.

- I remember TV news reported that Nikolaevka was the first baptism of fire for "Kyiv-1."

- We went back to the base and saw how on TV all the news reports said that: "Kiev-1" and the paratroopers liberated Nikolaevka from the Separatists. There wasn't a single word about the National Guard– the storyline was that "Kiev-1" did it all.

You know, not long ago, I realized with horror that Russian "Channel One" tells more truth about the Ukrainian army's situation in the ATO zone than our media does.

- You mean the "First Channel" that reported the "Army of Ukraine crucified a 3 year-old boy in Slavyansk?

- I understand that I'm saying unpopular things. Maybe so, but the fact remains: Russian TV reports on the real problems faced by Ukrainian soldiers, namely the lack of supply and communication problems, the miserable situation of the soldiers.

- You don't find it strange that the aggressor's TV spends so much time on the problems of our armed forces?

- What I find strange is the general message on Ukrainian news that everything is more or less normal in the ATO zone, that money is going to the army, the soldiers are well take care of. But we need to show the real situation, so that every citizen of Ukraine realizes that the country's in a real war, lay out the truth to help the soldiers. Instead, our TV news talks about how the soldiers were treated to concerts, how their food is prepared, they say everything's great, the troops in the Donbas are swimming in chocolate (everything's just great). That's not true.

Also, it's amazing that volunteer battalions have better logistics, weapons, ammunition. Why are "Kyiv-1" and other volunteer battalions so generously sponsored while the regular army is on a starvation diet, although it's doing the same amount of work, if not more?

- According to the latest official information from the NSDC (National Security and Defense Council), 363 Ukrainian soldiers perished over the last for four months of the anti-terrorist operation. What do you think, is that true?

- That's a lie. If TV news tells you that 2-3 soldiers died in the past day, you know, it was in fact 12-13, maybe more. More than 4000 soldiers died during the ATO in Donbas. Officials are lying about 363, why they're lying - I don't know.

- How can you hide the death of so many soldiers from the public?

- You can. Do you know that many soldiers aren't even registered on the ATO's official lists? Some guy's shot in the head in Donbas, and in the personal file they'll write: "Reason of death - careless handling of weapons ". Those paratroopers who liberated Semenovka, on the documents they're listed as being in training.

- There's a lot of video evidence on the Internet that Separatists tossed the corpses of their "brothers in arms" on the sidelines. Are there similar cases in the Ukrainian army?

- We gather ours. Always. However, sometimes it happens that you can't collect anything. For example, if you hit a mine – that's it: no equipment, no people, everything's in pieces. On the documents they list the dead as "missing". But if there's a piece of the body - arm, leg, chest with a tattoo - by which you can identify the person, families are told they were found.

Many deaths could have been avoided, but the problem is with the internal organization of the ATO, or rather, with its absence. Everything is haphazard: perhaps a wounded man gets carried out, and perhaps not. There can be a long wait (to get on) the helicopter for hospitalization just because the paperwork is filled incorrectly. And sometimes there's a strange attitude towards the dead…

- What do you mean "strange"?

- We had to participate in a joint operation with the Armed Forces for the capture and subsequent sweep of Krasny Liman. Our military convoy was divided into two parts. The first part went into the city from one side, and the second, where I was, went in from the other side. The plan was for the ATO forces to pinch Krasny Liman from both sides and simultaneously start fighting from both directions.

But we were ambushed near Seleznevka, barely got out. We were shot at for 3 hours and 20 minutes; 2 of our guys were killed and many wounded. Later, we evacuated everyone to a field near a roadblock. The wounded and dead from the first convoy, which had managed to make it to Krasny Liman, were also brought there.

The field was a little smaller than half a football field and totally (!) packed with wounded and dead. Helicopters flew in, at first they took the most heavily wounded, then the moderately wounded, and then the dead ... We had left the fight at 9.20am, and they picked up the dead at 16.30. What's more, when they loaded the corpses, they were in the same positions they were in when they died. It's a good thing though that there were some experienced fighters who immediately realigned the arms and legs of people when they died, otherwise the body would stiffen and you'd have to break the bones to get it in the coffin.

- Maybe it's not indifference, but shock, fatigue, frazzled? Especially since the battle for Krasny Liman was among the most violent.

- No, it's ignorance, inability, and most importantly, unwillingness and indifference. It should not be that way. They should at least cover the bodies, instead of haphazardly throwing them in this heat. It doesn't matter that there weren't enough doctors; the soldiers themselves could have closed the eyes of the dead.

- Have the soldiers had emotional breakdowns?

- Most did the same thing I did: call just one of your relatives, say everything's all right, I'm alive, and say no more. Believe me, daily calls from mothers or wives don't stabilize your emotional state, "Oh, stay alive! Oh, just take care of yourself". Damn it! Although there were those who quietly explained everything to their wives.

As for breakdowns ... There was a case when the father of a 40-year-old ATO volunteer died, so he packed his bags and left for home without permission.

- What about supplies for ATO troops?

- Here's an example. We have different uniforms: one soldier has an American uniform, another has a Ukrainian uniform, and others you can't even imagine. To distinguish each other, we put yellow adhesive tape on both arms. And also stick a strip on our helmets.

We were traveling in the convoy. The guys in the first APC suddenly said they spotted people who looked like us except the adhesive tape was red. They asked a superior: "Open fire or not?" He ordered them to wait, and after a while shouted, "No way, don't shoot". It turned it was the Ukrainian military heading towards us, they just ran out of yellow adhesive tape.

Another example. Again a group of people coming towards our convoy, but they don't have red or yellow armbands, no distinguishing marks at all. The convoy starts to fire at them and suddenly a superior says: "Don't shoot, it's ours". It turns out this was a reconnaissance group, it didn't have any tape. Thank God, in this skirmish with our own, no one was killed.

- You mean to say that the men are most in need of yellow adhesive tape?

- I want to understand how this is possible: the state allegedly allocates billions of ATO and doesn't even buy adhesive tape for the soldiers.

Our guys in Donbas still need everything: pants, socks, personal hygiene items, sleeping bags and sleeping-mats (your kidneys freeze sleeping on the ground at night), uniforms, helmets, body armor and so on. Medical supplies are badly needed, especially a good pain reliever.

We fight on Ketanov (an anti-inflammatory drug for short-term management of moderate to severe pain). If you're injured, you have to go through a lot of superfluous motions: put on a tourniquet, get a vial from the first-aid kit, open it, draw the anesthetic in a syringe for an injection. And all of this while under constant fire and shooting with one hand. Meanwhile the Separatists have Nalbuphine (a narcotic analgesic for severe pain) in their first-aid kit in a special package, which saves a lot of time; a vial with an integrated syringe- just pull it out, turn the cap and inject.

In combat, you go through personal first-aid kits very quickly, there are never enough. There's a vile pattern: if you have a tourniquet, then you're surely to be wounded a second time. When we were ambushed near Krasny Liman, one of the paratroopers had six wounds.

- How was the food in the ATO zone?

- They fed us three times a day in the ATO camp, but it was military food.

- That means austere but nutritious?

- That means tasteless and not satisfying. In the morning - porridge made with water; a thin slice of butter and cheese, plus a nasty piece of bread and tea. For dinner - soup or borsch, but military-style: just horrible, if your stomach doesn't get all matted up after 10 minutes you're hungry again. We're lucky there were food deliveries in principle because in other camps and checkpoints the feeding was beyond the boundaries of good and evil. They basically only got something to eat in the evenings…

- I'm almost afraid to ask what?

- Sometimes you got a cutlet along with the evening's tasteless porridge. I don't think they were entirely out of the meat but they were edible. In the Ukrainian Armed Forces – during both peacetime and wartime- the meals are always bad. Haven't you notice that upon leaving service, many soldiers have diseases of the stomach and pancreas?

- And what about the American MREs? The Ministry of Defense stated that they sent a huge quantity to the ATO zone.

- In two months I tasted an American MRE exactly once. After Semenovka. One of our guys got one package and we split it up for several of us to share.

- What do you mean "got one"? Weren't they distributed to everyone?

- American MREs were all (kept) close to where the generals were, they didn't make it out to us. But really very tasty, very nutritious, very classy food. The package opens quietly. Just add water, a chemical reaction warms up the food, and one portion is enough to gorge on for half a day.

- How can healthy men subsist on porridge and liquid soup?

- Great volunteers helped us, more precisely, the Kharkov Ultras. They not only took it upon themselves to find sponsors, but they also brought to the ATO zone helmets, flak jackets, sleeping bags, sleeping mats, canned food, wet-weather gear, saws, axes ... The army has nothing. Believe me, given the volume and frequency of deliveries, the guys spent fabulous sums. For example, they brought us two sacks of cigarettes. You know how much cigarettes cost. Really cool guys helped us out.

- The National Guard is composed of former internal security forces, who opposed the Maidan activists, among those were the ultras. Didn't any controversies about the revolution arise?

- I only met the Kharkov Ultras the third time they came, before that I'd seen them sometimes on the road, sometimes while on convoy but they were practically absent at the camp. In general, we'd meet and say thank you for your help. Among the volunteers was a guy in shorts with extensive scars on his legs. "Where did you manage to get hurt?" - I asked. "I was on the Maidan", he replied "two stun grenades exploded right under our feet."

We got to talking. Ultras and volunteers, as a whole, hate the "Berkut". I was surprised. They no longer had negative feelings toward us, former internal security forces, despite the fact that we'd stood on different sides of the barricades at Maidan. At that time everyone had their own truth, but now we have a common cause - to win the war. Nobody got into any arguments over Maidan.

- Why were you surprised by the attitude of activists toward the "Berkut"? After all, the troops of this special division beat and shot at activists.

- In each unit, there are those who do their job, and others who stupidly vent their rage on others. Believe me, the "Berkut" is fiercely fighting in the ATO now, many of them are educated, professional guys who are excellent fighters against Separatists. And at Maidan a lot of strange things went on, questions still remain.

- What exactly do you mean?

- It wasn't only activists who were killed; many law enforcement officers were killed as well. And the wounds are the same whether you're a civilian or a policeman. I think they brought in specially hired people who alternated between shooting the Maidan activists and the security forces. Snipers planted by those who benefitted from stirring things up. There wouldn't have been such resonance & effect from what happened at the protests without the bloodshed.

- And for whom exactly was it profitable?

- There were many interested parties- those who came to power, and those who were in power, but not in a key role. These questions still have to be dealt with, but after the war.

- How long were you on duty at the Maidan?

- 10 minutes, and my guys stood for almost three months, until Yanukovych's flight.

December 1, 2013, we had an emergency situation, we were called and ordered to immediately leave for Bankova Street. We were told that the riots had started and it was necessary to protect the president.

- It was the first assault of the president's administration after students on Maidan Square were harshly dispersed. The activists have questions about what happened on Bankova Street. Many are convinced that it was a planned provocation.

- We, as in law enforcement officers, still have questions too. For example, we somehow were not issued metal shields. This had never happened before! The shield is an indispensable part of your equipment.

When I, as part of the unit drove to the Presidential Administration, I saw there were already a bunch of troops from the Interior Ministry and "Berkut" in the courtyard. They all had bruises, abrasions, fractures. Roll of bandages were lying all around, doctors rushing, blood everywhere. In front there were two military busses, behind them explosions, screams, a crowd...

We were given the command: "Gas!" We put on our masks and stood in the 5th row because in front there were four rows of young conscripts. For some reason they too didn't have shields. Rocks and pieces of iron never stopped flying at us, along with constant shouts of "Shame!"

- As much as I recall, in the crowd of activists there was a strange group of young sports people wearing masks who were behaving very violently.

- That's right. This group broke through. Many of them were holding crowbars with chains welded to them and at the end there was a metal "shot put" ball with screws welded to it. Thugs pelted us with these iron whips. Metal "shot put" balls with screws bashing our heads, then - minus one person. Our commanders were constantly asking for guidance on the radio: "What should I do? What order should I give? Do we advance or not?" But the airwaves were silent, no orders were received.

In front of me fell two, three rows, then another, in the end I found myself in the second row. We used our batons to defend ourselves and ... that's all.

- What do you mean "that's all"?

- I regained consciousness and realized that I was lying on the ground in the melted snow. I came to only because my back was very cold. I heard shouts: "Don't slap him in the face! Pouring ammonia on him is better!" I opened my eyes, I couldn't focus, everything was swimming.

Later, the guys told me that cobblestones hit my head, my broke helmet in two and I lost consciousness. I spent a couple of hours on the ground; everyone was dragging and dragging the wounded. I saw how a nurse grabbed the lapels of a wounded soldier and shouted: "Just don't close your eyes! I will come to you tonight, but just do not close your eyes!"

- Why were you not immediately hospitalized?

- There were a many seriously wounded people, it never got to be my turn. In the ambulance for 40 minutes we were asked 'who, where, weight, height, age.' I could not remember my birthdate, but it struck me that wounded men had to endure 40 minutes of questions.

In the hospital found out that I had a traumatic brain injury, a concussion, a broken arm. You can see a dent on my hand. I guess it happened when I was fighting off the crowd, but exactly how my hand was injured, I don't remember. It seems that someone, unfortunately, forcefully punched it.

By the way, some of the news broadcasts were saying that everything was fine, the soldiers were not injured. But all the infirmaries were crammed to capacity. On the third day medical supplies ran out, you had to buy them with your money. Later we were handed envelopes with compensation of about five thousand hryvnia ($80 USD).

- I wonder why the Yanukovych regime became generous?

- (Laughs). So that I wouldn't be talking with you, a journalist. Some military commander (I didn't recognize him, but judging by his star - an important man) came to see me at home and asked: "Why were you without shields?" When he learned that there was no order for them, he said: "This cannot be!" We talked for about 30 minutes, he thanked me for my service and left. Afterwards a young man in civilian clothes came and handed me an envelope with the money.

- What do you yourself think? Why did they send you against the crowd without shields?

- It was advantageous to someone to arrange a mass slaughter of Interior Ministry troops to have formal grounds for dispersing the Maidan. The Government wanted to show that those weren't civilian activists but extremists who thrashed law enforcement.

- Right after December 1, the "family" television channels began to show deputies from the Party of Regions visiting the wounded security forces. Frankly, I was sure those shots were staged...

- The hospital was really packed, most had head injuries, broken bones, but the worst thing - some of their eyes were burned out. During the confrontations, they captured one of our men and jammed a burning flame right between his face and his helmet.

Many realized that the internal forces were being used for political purposes. Some didn't want any part of that and went to the hospital, while others continued to serve. You have to understand: we were given orders, we had to carry them out. It was hard, many of us found ourselves in a position where you're on one side, and your friends and family are with citizens on the other. But orders are orders; it's not up for discussion.

- Even if it's a criminal order, for example, to shoot at people?

- You carry out the order. Always. This is instilled in us during military training – you rigorously carry it out, even if the order is contrary to not only the interests, but to the health and life of a soldier. The ATO zone confirms this.

- What was the mood in the department when they learned that Yanukovych had fled?

- We hadn't been particularly well treated before that, and after Maidan it was terrible for the families. Neighbors also knew that we served in the Interior Troops. The mood was... the mood was bad! We really didn't know if we should continue to serve or not? Most of the guys gave in, let it ride, but many simply quit.

- What do you think, what will end the war in the Donbas?

- I honestly don't know. I'm in despair and confusion. When we went into Slavyansk there were many young boys and adult men among the locals. I perfectly understand that many of them worked for the Separatists, and when they fled they hid their weapons under their pillows and went to receive social and humanitarian assistance from Kiev.

I think if someone wants to venture again in the Donbas, in their own interests albeit for different reasons, the locals who stashed their weapons will again do what they've been doing these last 4 months. A vicious circle.

- But in spite of the mentality in the Donbas, and the problems within the ATO forces, Ukrainian troops will win ...

- ... Including the fact that the Separatists themselves are surrendering their positions. Remember Slavyansk? Strelkov he left. There were tough battles for Nikolaevka; in the first days we were given a terrible thrashing, and on the second day the separatists suddenly retreated. And not because they were afraid. I have a strong feeling that even the Separatists' departure was in accordance with some plan.

I think that, just like at the Maidan, the war policy in the Donbas is something muddy, that there's some agreement between states (Russia, Ukraine and the West), and between the ruling elites of the East.

- You'll go into the ATO zone again?

- If there's an order, of course. The motivation is the same: to protect your loved ones and relatives.

But I stress one thought to anyone who's currently engaged in the ATO: "Let's finish up here and then go to Kiev to put some things in order." After the war in the Donbas, no longer will anyone in the military tolerate the army's terrible living conditions, outdated weapons, incompetent commanders, information leaks, corruption and so on.